Sri Lanka Shines at WESPA Youth Cup
The youth Scrabble team of Sri Lanka won the team prize at WESPA Youth Cup (World Youth Scrabble Championship) 2022 held in October. Adheesha Dissanayake won the group stage of the tournament, while teammate Sandali Vithanage came in second. The event was held online for the third time this year with a total of 86 players participating from UK, Australia, USA, Pakistan, Indonesia, Philippines, India, Malaysia, Thailand, Nigeria, Hong Kong, Singapore, Germany, Nepal and Sri Lanka.
Standing left to right: Thulnith de Silva, Adheesha Dissanayake, Sandali Vithanage, Archana Padumadasa, Ilham Irshad
Front row: Sandanindu Batheegama, Vinith Owens, Kavindu Malawaraarachchi, Hivin Dilmith
Absent: Nonithma Dharmadasa
13-year old Adheesha Dissanayake of Gateway College not only clinched the 5th place overall but was also adjudged the Under-16 Champion. Having begun his WYC journey in 2017 when he became the Under-10 champion, Adheesha also won the High Game Award in 2018 and ranked 11th at the 2021 event. This year, Adheesha dominated the group stages of the tournament from the start, winning 28 of 36 games, 1.5 wins ahead of his nearest contender.
Meanwhile, Sandali Vithanage of Musaeus College ranked second in the group stages and progressed into the final round to clinch the 8th place overall. She won the title of Best Female Player for the second time, being the only female player to have made it into the finals both this year and in 2021. She had won 26 of the group stage games with one tie, and 6 games in the final stage.
Adheesha's and Sandali's performances and the support of Hivin Dilmith of Mahinda College who ranked 12th, ensured that Sri Lanka emerged victorious as the Best National Team. The Sri Lankan team is held with great regard in the world of youth Scrabble, having achieved this feat three times before, as well as never falling below the top three positions within the past 8 years. This year, the team defeated their closest competitor Pakistan in the group stages by a lead of 3.5 game wins, with a total of 76.5 wins between them.
The contributions of the other Sri Lankan players, Kavindu Mallawaarachchi (Royal College), Nonithma Dharmadasa (Sacred Heart Convent Galle), Archana Padumadasa (Elizabeth Moir School), Vinith Bawantha (Mahinda College Galle), Thulnith de Silva (Richmond College Galle), Ilham Irshad (Gateway College Colombo) and Sandanidu Batheegama (Richmond College Galle) were invaluable in this.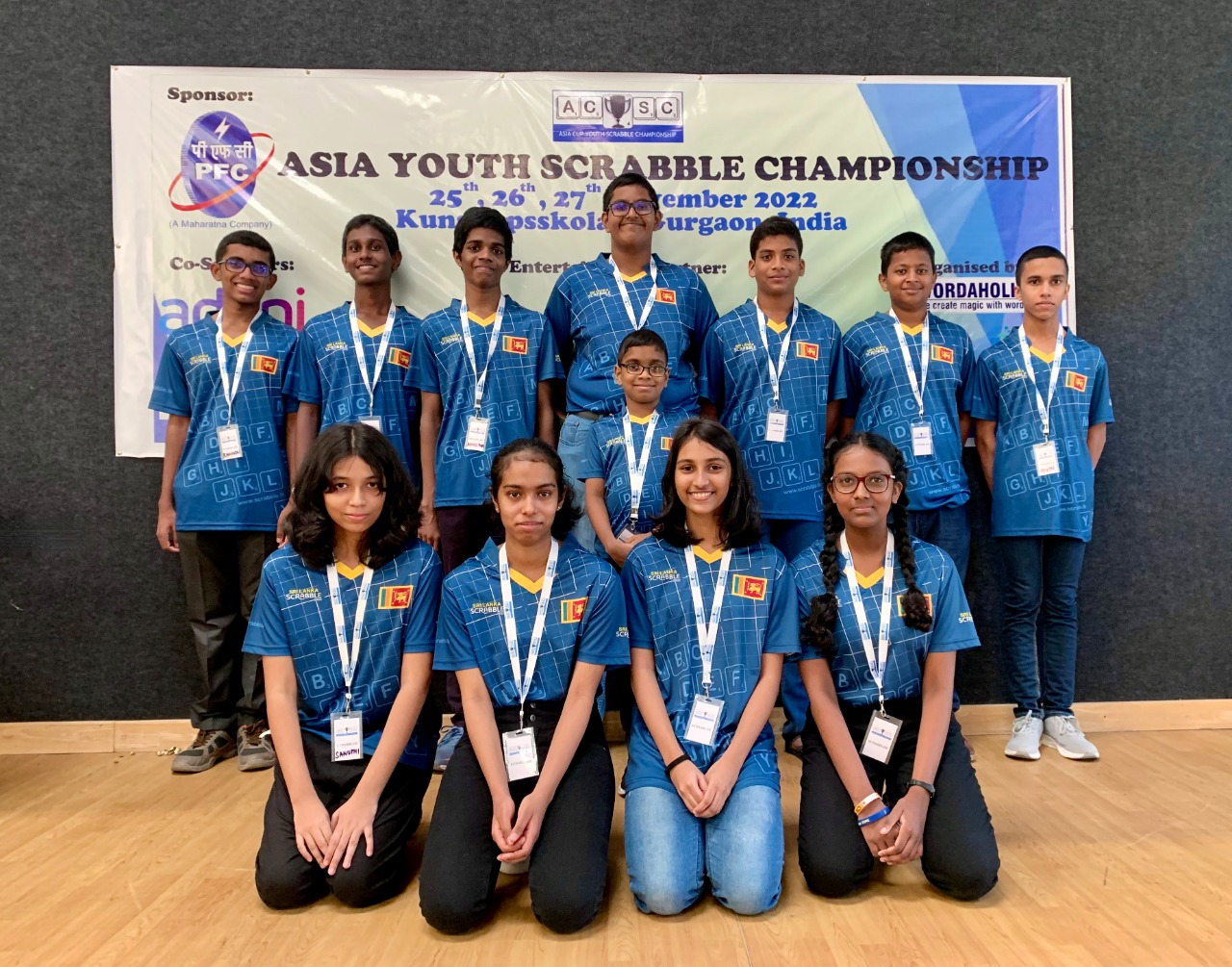 Many of the same team took part in the inaugural Asian Youth Cup Scrabble Championships where once again Sandali emerged as the best female player. Adheesha secured fourth place at the asian youth up while Hivin securied fifth.
Pictured above. Standing from the left. Kavindu Malawaraarachchi, Vinith Bawantha, Adheesha Dissanayake, Chanul Edirisinghe, Archana Padumadasa, Thulnith De Silva, Hivin Dilmith
Middle row: Pasindu Wijewardena
Front from left: Sanuthi Chandra Kumar, Sandali Vithanage, Nishanya Gammanpila, Kithnuli Amarasinghe