In 2015, the Sri Lanka Youth Scrabble team won the best team award at the World Youth Scrabble Championships (WESPA Youth Cup) for the first time. Since then, the best team award has been secured by our scrabblers on three other occasions including 2022. In order to expand our pool of young talent, the SFSL has decided to conduct the first ever junior nationals from September through November. The event will be held in four different regions to provide everyone with a chance to compete.
Registration is now open for the event. However please make sure to read this web page completely before you register.
The Age Groups
The tournament will be held in two age groups; under 15 and under 20. Any person who is younger than 15 years of age may opt to take part in the under 20 division. The cut of date for eligibility is 31st December 2023. In other word a player who does not reach 15 years of age in 2023 can take part in the under 15 division and a person who does not reach 20 years of age in 2023 can take part in the under 20 division
Qualifying for the finals
Players who took part in the WESPA Youth Cup in 2022 and 2021 automatically qualify for the finals without the need to go through the zonal tournaments. Their names are as follows:
Nimuthu Witharana
Dinuli Premarathna
Sethmi Jayasinghe
Adheesha Dissanayake
Sandali Vithanage
Hivin Dilmith
Kavindu Malawaraarachchi
Nonithma Dharmadasa
Archana Padumadasa
Vinith Bawantha
Ilham Irshad
Thulnith De silva
Sandanindu Batheegama
There are 40 seats in each age group in the finals. In addition to the players listed above, the winner and the runner up from each zonal will qualify. The remaining seats will be distributed among the zones on a pro rata basis on player ratings. Thus zones where the competition level is higher due to more rated players taking part will have slightly higher number of finalists
Awards
The winner of the under 20 division becomes the Junior National Scrabble Champion. Receives a trophy and a returnable shield.
The winner of the under 15 division , first and second runner up in both divisions receive trophies.
All those who complete the finals receive a finalist certificate.
Trophy for first three places in each zone for both age groups.
Top 10 places in both age categories in each zone receive a certificate.
Certificate for best female player in each zone, each age category.
Medal for best female player in the finals, each age category.
Medal for best player under 12, best player under 18 in the finals.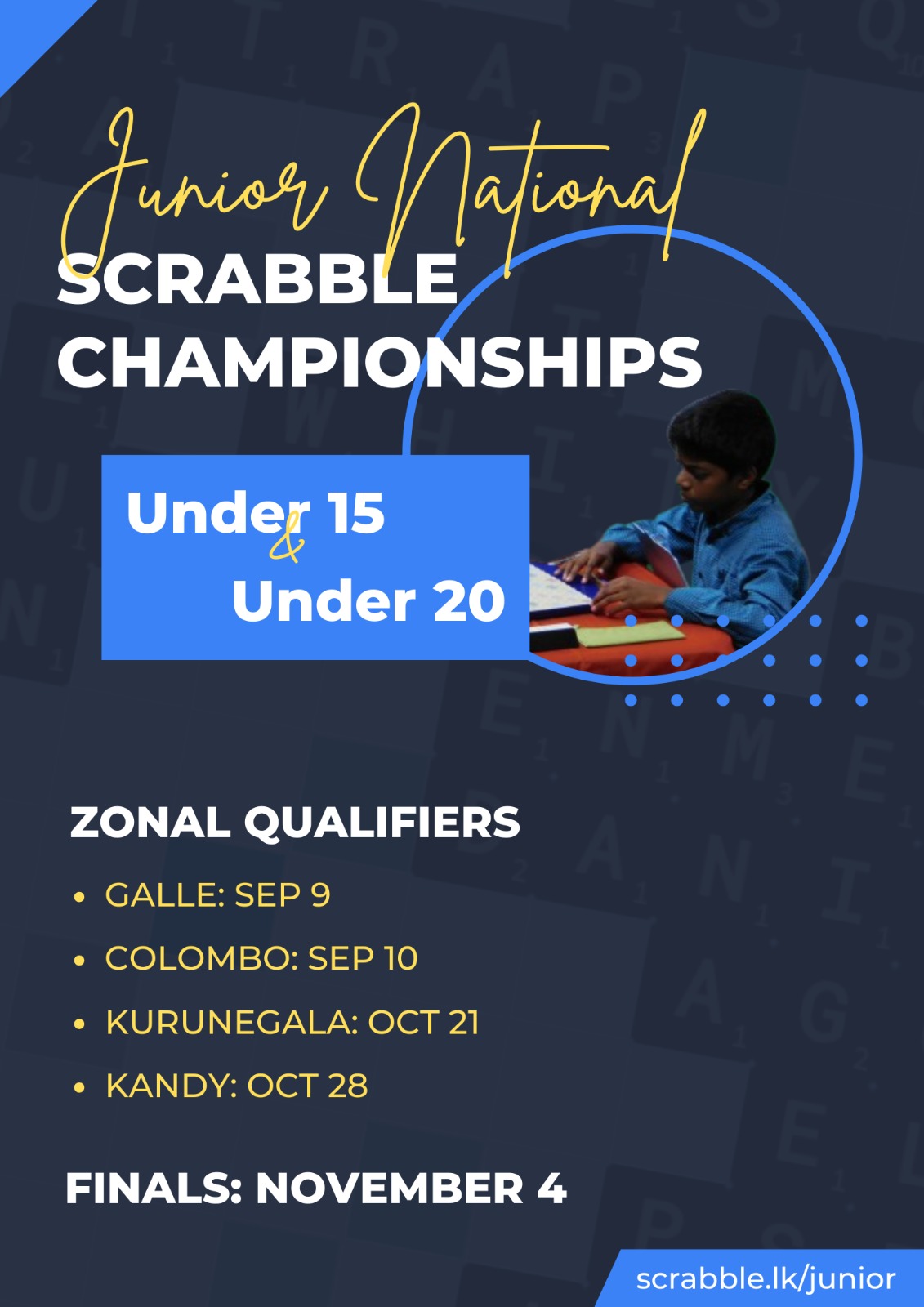 Tournament Structure
The zonals will either be five or six rounds based on the number of applicants. Should the number exceed 100 in an age group it will be six rounds and five rounds if less than 100. The decision will be announced two days before the start of the event. The finals will be nine rounds and it will be a rated tournament provided that at least 40% of the participants have a national or WESPA rating.
The zonal tournaments will be Swiss pairing with no lagged draws and no repeats. Unlike other age group events conducted by clubs, this tournament will be paired with modern software to avoid delays. The finals will also be swiss paired with no lagged draws. There maybe a single repeat in the finals, which means any player may play the same opponent twice. If a repeat occurs it will be after round six.
Tournament directors will be experienced persons having conducted many large tournaments in Sri Lanka and abroad to ensure that all events run smoothly and on time.
Registration
In order to register for the event, all players are required to obtain a unique player id. The capacity at most venues will be around 200 players. All rated players will be accepted. Unrated players will be selected on a first come first served basis depending on the capacity of the venue. Should the capacity be exceeded it is likely that players who have never taken part in any other Scrabble tournament may miss out. This step is unfortunately neccassary to ensure that the competition meets the standard of play expected of a national level tournament
There is a registration fee of Rs 1,500 per player. Once your participation is confirmed, you will recieve an email with payment instructions.